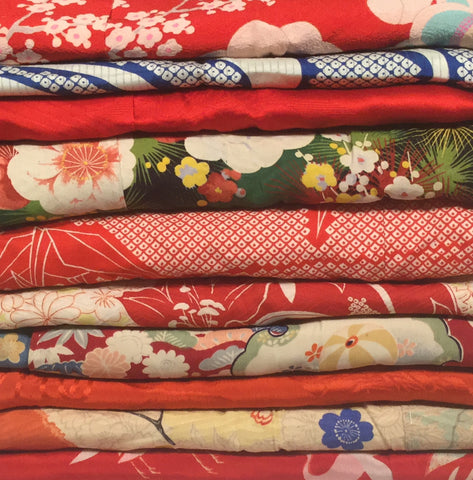 Due to the high demand for this product, in order for more people to be able to order this very popular package, we have set a limit of a total of three (3)10LBS maximum -- or, 30lbs --  of this package per 30 days per customer.


Vintage Ladies Under-Kimono(Nagajuban) 
(Average Count: 8-10 Garments / 10 Lbs)
110-NAG
US$9.50/lb 10lbs
US$95.00
Plus Actual Shipping Cost* (details below)

PRODUCT DESCRIPTIONS:


These packages are comprised of ladies and girls under-kimonos which are called nagajuban. They are mostly made of silk with occasional synthetic (mock-silk) and cotton with interwoven motifs throughout, to include classic traditional Japanese designs (see pictures above); These are whole garments and some can be worn informally, and are also used by designers in various ways as cutters.

Cultural Note:

About color selections:  Please keep in mind that the overwhelming majority of these vintage under-kimonos are made in reds and a color called shuiro (vermilion), an orange-red color because traditionally this color is believed in Japan to ward off evil spirits / bring good luck. However, there are only a few other colors of vintage nagajuban. We mix them in when available but they are increasingly rare. So please note the predominance of red / shuiro, all with interwoven patterns and designs (See sample pictures).

COUNT: As we're selling by the pound, the count varies because each garment is different weight; usually around ten pieces per 10lbs package, effectively about US$9.00 per garment.

NOTE ON SELECTION: Please note that the much-valued darker non-red nagajuban are increasingly rare, less seldom seen and we cannot assure that one will be in any package -- we add one whenever we have them. 

Sold as CUTTERS, but some of our customers resell these as wearable; also, please keep in mind that these are vintage(old, recycled) please keep in mind that they may have some wrinkling, slight stains & imperfections, and sometimes musty odor.

NOTE: PICTURES SHOWN ARE SAMPLES OF RECENT 10 Lbs NAGAJUBAN ORDER, first view is a pile, others are close-ups of the 10 Lbs; These pictures show the quality and types of nagajuban in each package.   Also, please note that images vary in color and contrast per device. Each package is unique.
Questions?: Please send us a message HERE. 

IMPORTANT NEWS RE: POSTAGE/SHIPPING COSTS FOR ALL SHIPMENTS TO OUTSIDE USA: 
We also now offer GlobalPost(tm) shipping discounts to the European Union, Australia, and other countries. THIS DISCOUNTED INTERNATIONAL SHIPPING RATE DOES NOT SHOW ON OUR YOKODANA.COM CART DURING CHECKOUT -So... Please contact us before ordering to get a shipping quote to your country.  For some countries, shipping is up to 40% cheaper than US Postal Service Int'l Priority Mail.

To learn about GlobalPost please visit info page HERE. 
---
More from this collection
110-NAG: Vintage Japanese Silk Ladies Under-Kimono, by Pound