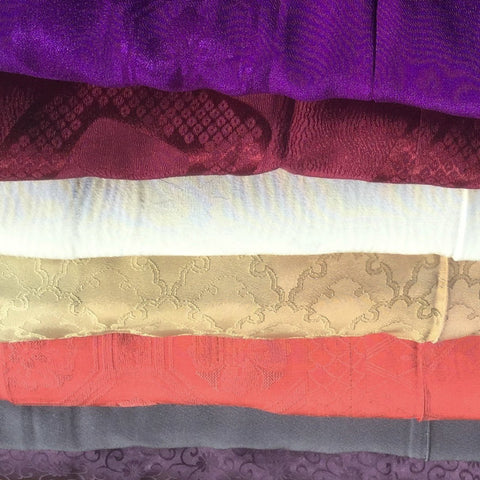 Catalog#: 110A-SOLIDS
SPECIAL MIX of Our "A" Package
Solid Kimono Robes for Women
w/Some Interwoven Patterns
10 Lbs (4.54Kg) Minimum  @US$9.50/lb = US$95.00 

Plus Shipping
Plus Actual Shipping Cost*


For Continental USA, Mexico & Canada:
UPS & FEDEX DO

 NOT

 

SHIP TO PO Boxes

 A NOTE ON OUR PICTURES:
Our pictures here are of a recent sample 10 Lbs (4.54Kg) 110A-SOLIDS Package, shown first as pile of whole ten pounds, then close-ups of same kimonos. PICTURES ARE SAMPLES of type and quality in each package,

110A-SOLIDS WOMEN'S KIMONO BUNDLE DESCRIPTIONS:
Version: Updated June 3, 2023
 1. KIMONO BUNDLE CONTENT:
We offer these for our quilters, DIY crafts enthusiasts, and other creative folks who need solid background fabrics but with interesting interwoven designs; They will be of a variety of colors (like the sample pictures shown here); Each bundle is unique, meant for cutting**, artwork, design, DIY, crafts, etc.; as vintage (used, recycled, upcycled) kimonos, there may be some imperfections and slight stains, but never rag quality:


 **Note also that while sold as fabric supply for taking apart, some will be wearable; we have customers worldwide who resell these in vintage and other types of shops, websites, or at events; some of our retail customers use them for casual vintage wear, costume, Anime Cosplay, etc.
 Each bundle is unique. When you take apart these kimonos and short coats you will get about 70-80 yards of the outer fabric per 10lbs, not counting the Inner liners.
 2. EXCLUSIONS:
We do NOT include any of the following type fabrics: cotton, muslin, and commonly seen non-Japanese-made synthetic robes(off-shore sellers) which are called 'kimono' by some -- but which are not truly Japanese kimono --  We never have those types -- ever;
  3. SOLID KIMONOS PACKAGE MOTIFS, PATTERNS & DESIGNS:
Most of the solid color kimonos of this package will have a wide variety of interwoven designs, and traditional motifs, including some of the following designs interwoven into the same-color fabric: Flowers, fans, butterflies, birds, Imperial items ( such as -- flower carts, Imperial procession items, banners, treasure mallets, and gift boxes); also, toys, origami, cranes, waves, streams, bamboo thickets; Kimono makers historically also include themes from woodblock prints and art of 1600 to 1800's Japan, including tsunami wave, mountains, streams, and country villas with streams, waves (often stylized in various fashions) and geometric designs.
Some may be without interwoven, but in addition, even when a kimono fabric is solid (no secondary colors, motifs/design), entire garments are often interwoven with these same lovely designs.
Also, many classical kimonos have a subtle beauty and nuance, perhaps an acquired taste, but rich in layout and arrangements in the fabrics.
 4. PICTURES:
Images shown in our description here are EXAMPLES of a recent bundle; yours will be unique and sorted using the criteria as described here.  We do our best to provide a balanced mix as described here. Also, please see FAQs that have more details about selection. Links to FAQs are below:
International Customers: PLEASE

 

read our international info pages starting HERE.
Return/Refund Policy.



We also now offer GlobalPost(tm) shipping discounts to the European Union, Australia, and other countries. THIS DISCOUNTED INTERNATIONAL SHIPPING RATE DOES NOT SHOW ON OUR YOKODANA.COM CART DURING CHECKOUT -So... Please contact us before ordering to get a shipping quote to your country.  For some countries, shipping is up to 40% cheaper than US Postal Service Int'l Priority Mail.

To learn about GlobalPost please visit info page HERE. 
 Still Have Questions?: Please email us HERE.
---
More from this collection
110A-SOLIDS: 10Lbs Vintage Japanese Women's Kimono Package,Solids Only