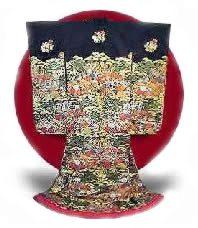 DISCONTINUED: May 31, 2022
When available, offered to

optin members




Vintage Japanese Kimonos Sampler Lot:
8 Different Types of Kimonos
From our Bulk Kimono Packages Collection

Lot of 1 Garment each from our Bulk Kimonos 110-Collection:
"A" Woman's, Solids, Meisen, Ohshima, Nagajuban, Cotton Kimono(Yukata), Shibori Kateigi House Coat, Girl's Nagajuban

Catalog #: 110-SAMPLER  

US$115.00
Plus Actual Shipping Cost
New Discounted Shipping Options for shipments outside the USA:
We also now offer GlobalPost(tm) shipping discounts to the European Union, Australia, and other countries. THIS DISCOUNTED SHIPPING DOES NOT SHOW ON CART DURING CHECKOUT -So... Please contact us before ordering to get a shipping quote to your country.  For some countries, shipping is up to 40% cheaper than US Postal Service Int'l Priority Mail.

To learn about GlobalPost please visit info page HERE. 
DESCRIPTIONS:

 KIMONO BUNDLE CONTENT:
 We are offering this new product for those interested in seeing what is in our various bulk kimono packages without having to buy 10lbs of each. As with all our bulk packages, we are also selling this bundle as whole-garment cutters; in bundles meant for cutting, artwork, design, DIY, crafts, etc.; as vintage (used, recycled, upcycled) kimonos;  there may be some imperfections,  slight stains, but never rag quality --  Note also that while sold as fabric supply, we have many customers worldwide who resell these in vintage and other type shops, or at events; many customers use for casual vintage wear, costume, & Anime Cosplay, etc.
To see the master list with links to all the packages represented in this lot (and others) please visit our 110 Collections Page HERE .
Included in this product lot are one (1) each of the following types:


110-GNAG: Vintage Girls' Nagajuban(Under-Kimono).
Selections are different for every package.
---
More from this collection
110-SAMPLER: Lot-8 Garments from Bulk Vintage Japanese Kimonos,8 Different Types