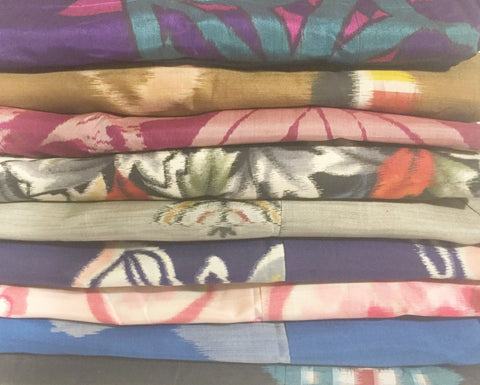 Page Last Updated: October 8, 2023
Vintage 1950's Meisen Silk Kimono

(110-MSN)
Ten Pounds
(Average 7 to 8 garments)



List Price: @US$115.00

Plus Actual Shipping Cost *




United Parcel Service (UPS) and FEDEX GROUND(USA, Canada, Mexico) DO

 NOT 

SHIP TO PO Boxes
110-MSN PACKAGE DESCRIPTIONS:

  Our sample pictures here are of recent 10lbs Meisen Package
Cultural Notes: The best discussion we've found of Meisen silk fabric was on an old blog post by Japundit, excerpted here*:
"...Young women have rediscovered(Japan Times) the kimono, and you can see them out in Harajuku on the Sunday fashion parade. There's even a term for these girls -- not surprisingly they are called "kimono girls." There are even some nice books documenting the trend which you can check out at J-List and are definitely worth having if you are at all into fashion.

"The meisen kimono in particular has become very popular. These kimono were made in the first half of the twentieth century, and were characterized by a glossy sheen, and brilliant patterns. There is often a sort of blurry quality to the silks...."

[*original article has been pulled]
1. CONTENT:
Packages are comprised of ladies' long and short (Haori / michiyuki) garments made of a type of silk called Meisen. Ratio of longs to shorts varies greatly. We try to put at least 4-5 longs and rest of them short. Sorry we cannot honor requests specifying only long/short or ratio thereof.
Meisen is defined literally in our Kenkyuusha dictionary as "...common silk stuff"; meisen fabrics (or garments made from them) are currently called 'meisen'; Meisen kimono were made similarly to kasuri (ikat) , though meisen usually have very colorful patterns with distinct -- often more modern -- motifs and a slight sheen; Kasuri/ikat, of course, is mostly indigo blue and some white with black. To learn more about kasuri click here.


2. QUALITY & CONDITION:



Sold as CUTTERS, but most of these are wearable, but as vintage; please keep in mind that they may have some wrinkling with slight stains, holes & imperfections, sometimes musty odor. Please note that these are vintage so they may have some slight stains, imperfections and wrinkles.


3. BY-POUND COUNTS:



This is a BY-POUND product, not based on piece-count. In general they weigh from 1/2-3/4lb to 2lbs per piece, so average 6-7 pieces per ten pounds. We do not guarantee count, as this is a by-pound product, but these estimations give a good idea of what you get in a typical order.
REMEMBER: Please be sure to carefully read all the FAQ pages, FAQs and testimonials before deciding on your first order (See links in tabs at top of every page). This saves you -- and us-- inconvenience and disappointment if you order without a full understanding of these products.
 SHIPPING DISCOUNT OPTIONS:
We recently added excellent discounted shipping rates with Fedex Ground and United Parcel Service(UPS) which show substantial savings on shipping to customers not close to us in the Northeast USA. All shipping rates are listed during the check-out process before finalizing the order. The discounts for international ground rates to Canada and Mexico by FedEx and UPS are also quite good.
To see what some are making with our vintage Japanese fabrics, please view our Customers' Showcase HERE.
One of our customers uses these kinds of meisen silks to make purses, cases, etc, like this by Jennifer Morales :
Other questions?: Please email us HERE.
We also now offer GlobalPost(tm) shipping discounts to the European Union, Australia, and other countries. THIS DISCOUNTED SHIPPING DOES NOT SHOW ON CART DURING CHECKOUT -So... Please contact us before ordering to get a shipping quote to your country.  For some countries, shipping is up to 40% cheaper than US Postal Service Int'l Priority Mail.

To learn about GlobalPost please visit info page HERE. 

TOP
---
More from this collection
110-MSN: 10 Lbs. Vintage 1950's Meisen Silk Kimono Package