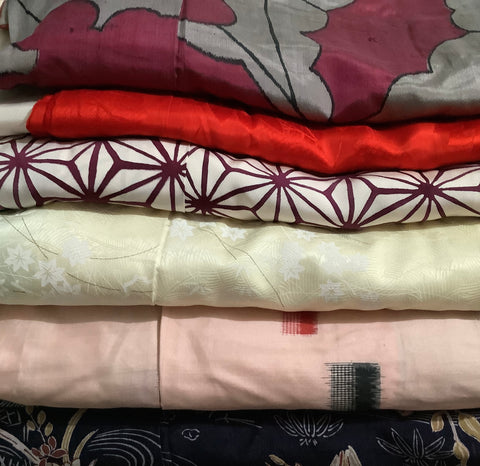 Version: Updated March 13, 2023
Ten Pounds Vintage Japanese Long Women's Kimonos:
"B Package"

By-Pound Package of Silks & Silk Blends, 
For Crafts, Design, DIY, Artists,  Sewing Fabrics Supply

(Cutters: Not sold as wearable)
Catalog #: 110-B  

10 Lbs (4.54Kg) @US$65.00 
Plus Actual Shipping Cost

"B PACKAGE"

10 POUNDS VINTAGE JAPANESE AUTHENTIC KIMONO BUNDLE:

 BACKGROUND STORY OF THIS PRODUCT:
We have been selling our most popular  "A Package" women's kimonos by-pound online since 1998. In the process of procuring our supplies in Japan, we also come across kimonos that are not up to our standards for the A Package, but, while not suitable for wear, we felt surely they can be used by textile artists, quilters, fashion designers, and other textile artisans in their creative projects.
Therefore this package is for all those creative folks who like to give new life to these special old vintage kimonos and save them from a landfill.
BUNDLE DESCRIPTION:
This 10 pounds package contains all kinds of authentic vintage Japanese long women's kimonos, and -- if available -- short haori coats (cardigan style) from the 1960s-1990s; Summer kimonos ('Ro' silk type), while seldom included, have no liners; All kimonos have some sort of minor imperfections, such as stains(seldom), tears, holes, etc.; they are, however, almost always whole garments, with the occasional partial (often no sleeves); these are not rag-quality. Please see our closeups of the kind of stains you will find in this package.

COUNT: We sell these by the pound, but folks like to have a general idea of count in a 10lbs package.   So, as for the count, the majority will be long kimonos, 6 pieces, or, 5 long kimonos and 1 short kimono coat..
USES: Each bundle is unique, meant strictly for those wishing to create something new with - or from - them; some have used them as a canvas for dye-air painting accents, or for full re-dyeing, embroidering, or, altering or patching over flaws; There seems to be no limit to how our creative customers use these special old kimonos in ways that give them a new life, rather than these kimonos ending up in a dump somewhere. 
For our sewing, creative & designer customers who use them as cutters, to completely deconstruct these for the fabrics, keep in mind that when you take apart these kimonos you will get about 70 yards of the outer fabric -- average width of 14 inches; Inner liners add additional  slightly less than 70 yards of liner yardage.

About Our Pictures: 

We show 2 different 10lbs packs in stacks, along with closeups of typical stains  seen in this product; Reminder that colors and contrast vary for each device. These pictures are SAMPLES of what is in each package as for design and colors.
FAQ's & Other Information about bulk kimono packages:
---
More from this collection
110-B: 10Lbs Vintage Japanese Kimono, "B"Package, Bulk Wholesale Kimono Cutters