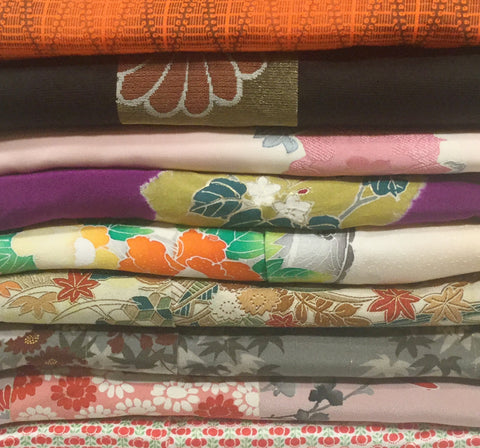 Due to the high demand for this product, in order for more people to be able to order this very popular package, we have set a limit of a total of three(3) maximum -- or, 30lbs --  of this package per 30 days per customer.

NOTE TO NEW BUYERS of "A Package":
If you find this is often marked 'sold', when you go to buy it,  this is because this is in constant high demand and we are filling orders steadily for this package. We, therefore, update the site inventory regularly, sometimes more than once a day; so we ask you to check later or the next day; alternatively, you can message us HERE that you want to buy one and we'll waitlist you and then email you once one is available for you.

Japanese Long & Short Kimonos for Women (Kimono, Haori, Michiyuki) By-Pound Package Silks, Silk Blends, Sometimes Mock-Silks*
Catalog #: 110-A  

10 Lbs (4.54Kg) @US$9.50/lb = US$95.00 
Plus Actual Shipping Cost
Called our "A Package" --


Our Most Popular Bulk Kimono Package Since 1998



United Parcel Service (UPS) and FEDEX GROUND
(USA, Canada, Mexico) DO

 NOT

SHIP TO Post Office(PO) Boxes
Also: For International Customers -- We now have GlobalPost(TM) discounted shipping rates for many countries; See below for details. 
Version: Updated November 1, 2022
"A" PACKAGE WOMEN'S KIMONO, BUNDLE DESCRIPTIONS:
 1. WOMEN'S KIMONO BUNDLE CONTENT:
 We are selling this bundle of women's kimonos as whole-garment cutters, average 6 garments per 10lbs package, sometimes more. The majority are long kimonos with short kimono coats (haori, michiyuki) included when available; When we include a formal long kimono (such as a furisode) the count will be lower since a furisode weighs easily 2lbs.
Each bundle is unique, meant for cutting**, artwork, design, DIY, crafts, etc.; as vintage (used, recycled, upcycled) kimonos, there may be some imperfections, and slight stains, but never rag quality:

**Note also that while sold as fabric supply for taking apart, some will be wearable; we have customers worldwide who resell these in vintage and other types of shops, websites, or at events; some of our retail customers use them for casual vintage wear, costume, Anime Cosplay, etc.
For our creative & designer customers:  Please keep in mind that when you take apart these kimonos and short coats you will get about 72 yards of the outer fabric -- average width of 14 inches; Inner liners add additional yardage.

Selections are different for every package:  We put together an assortment that is a balance of warm and cold colors and varied designs; the fabric weights range from light to heavy; Since these are from the 1950s to 1990s the designs and motifs are considered as classical, traditional, and highly varied Japanese historical motifs; even a  solid fabric will often be interwoven in the same sorts of traditional Japanese motifs.
2. FABRIC CONTENTS:
*Mostly silks and silk blends (silk with some synthetics) with the occasional all-synthetic fabrics (not very often, actually), if they are especially nice and in good condition.

 EXCLUSIONS:
We do NOT include any of the following type fabrics: cotton, muslin, and commonly seen non-Japanese-made synthetic robes (off-shore sellers) which are called 'kimono' by many -- but which are not truly Japanese kimono --  We never have those types -- ever;
ALSO INCLUDED:
When on hand, we include a luxurious type of fine silk called 'kinsha', as well as the following: Ro,(skip-weave, summer silk), shibori, and other special older vintage varieties when we have them.


 3. MOTIFS, PATTERNS & DESIGNS:
Traditional motifs are in a wide variety of combinations and include the following: Flowers, fans, butterflies, birds, Imperial items ( such as -- flower carts, Imperial procession items, banners, treasure mallets, and gift boxes); also, toys, origami, cranes, waves, streams, bamboo thickets; Kimono makers historically also include themes from woodblock prints and art of 1600 to 1800s, including tsunami waves, mountains and country villas with streams, streams (often stylized in various fashions) and geometric designs.
In addition, even when a kimono fabric is solid (no secondary colors, motif, or design), entire garments are often interwoven with these same lovely designs - but not all  - some are without the interwoven designs, being solid.
Also, many classical kimonos have a subtle beauty and nuance, perhaps an acquired taste, but are rich in layout and arrangements in the fabrics.
OTHER:  While we sell these as cutters and fabric supplies, they are all full garments, but with the following exception: Sometimes we get beautiful older (from the 1920s-1940s) colorful kimonos that lack sleeves or perhaps lapels; these are often of the finer old silk called kinsha; If we have these we will include one in as part of the bundle. Should you NOT wish this sort of thing, please leave a note in your order form during checkout, or message us via the site chat button or contact link.
 4. PICTURES:
Images shown in our description here are EXAMPLES of an actual order; yours will be unique, and sorted using the criteria as described here. After placing an order, please message us on how you plan to use the bundle or any 'druthers' you have. This helps us make the final selection. We do our best to provide a balanced mix. Also, please see FAQs which have more details about the selection.  
FAQ's & Other Information about bulk kimono packages:
 Discounted Shipping Options for shipments outside the USA:
We also now offer GlobalPost(tm) shipping discounts to the European Union, Australia, and other countries. THIS DISCOUNTED INTERNATIONAL SHIPPING DOES NOT SHOW ON CART DURING CHECKOUT -So... Please contact us before ordering to get a shipping quote to your country.  For some countries, shipping is up to 40% cheaper than US Postal Service Int'l Priority Mail.

To learn about GlobalPost please visit our info page HERE. 
---
More from this collection
110-A: Authentic Traditional Vintage Japanese Kimonos for Women, 10lbs Bundles