7353:1950s Japanese Vintage Kimono Silk Fabric,AraiHari,56in.Piece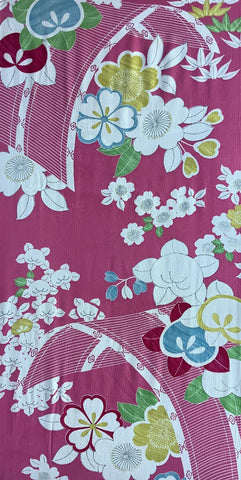 Vintage Japanese Textiles:
1950s Kimono  Silk Fabric Piece Arai-Hari


Width: 14 inches/ 35.56 cm
Length: 56 inches / 141.24 cm
Catalog# 7353:
US$15.00 per piece
Fabric History/Provenance: 
Pieces received from a traditional Japanese kimono cleaner/reconstructor called 
Arai-Hari
 -- see an excellent explanation of traditional 
Arai Hari
 by textile expert 
John Marshall,by click-pushing HERE
.
Fabric Description:
This lightweight & translucent
silk 
for use in making a woman's kimono;fabric has very slight textured feel, sort of chirimen (seen in closeups); Background color is dark pink with a touch of peach color; there are subtle interwoven designs including swaths of water, flowers, leaves; Foreground motifs are flowers and blossoms of many kinds, as well as large pin-striped arches that we're unsure of the meaning of them(bridges?), makes for a distinctive piece;  Colors of flowers are whites,pale light pastel pink and whites, with colonial blue, mustard, green, and dark plum to burgundy red; the interwoven background areas are the only places where any sheen is noticeable;   designs are intended for one side display; slight drape.


Recommended for making scarf/accessories.
Colors:
Please use our text descriptions to complement your sense of the colors, as color and contrast differ on different devices.
---
More from this collection
7353:1950s Japanese Vintage Kimono Silk Fabric,AraiHari,56in.Piece