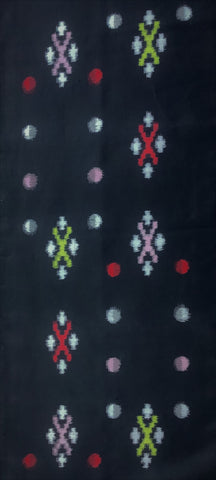 Catalog# 6603
1930's to 1950's Japanese Textiles:
From Arai-Hari Cleaners 
Japanese Kimono Meisen Silk Fabric Piece
(Mock-Kasuri Designs)

Width:13.5 inches / 34.29 cm
Length: 58 inches / 147.32 cm

US$20.00 per piece 
Item Details and Description
Fabric History/Pedigree:

1930s

 to 1950s silk fabric pieces received from traditional Japanese kimono cleaner/reconstructor called Arai-Hari -- see an excellent explanation of traditional Arai Hari by textile expert John Marshall, by click-pushing HERE.



Fabric

Description:  Meisen silk, lightweight, slightly translucent fabric, solid black background with rows of geometric and orb figures which are spaced irregularly; woven to mimic the patterns seen in kasuri ikat; the diamond shapes are 4 inches (10.16cm) at longest, the orbs about 1 inch(25.4 mm) at longest; colors used for the figures arered, yellow, white and pink.


Colors: Please NOTE that colors and contrast differ on each device, so use our text descriptions to complement your sense of the fabric.



Condition:

Excellent.



---
More from this collection
6603: 1930s-50s Japanese Meisen Mock-Kasuri Silk 58 in.Piece(AraiHari)