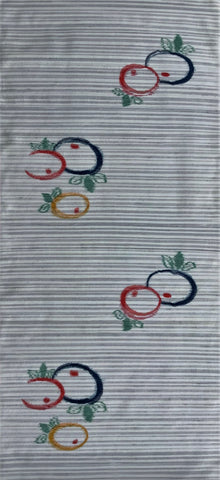 Catalog #6601
Vintage Japanese Textiles:
 1980's Japanese Silk
Ladies Silk Kimono Fabric by yard

(Watercolor-like Motifs, Stylized Fruit)
Width:14.5 inches / 36.83 cm
Length: 1 yard  / 91.44 cm
List Price: US$10.00 per yard
Sale Price: US$5.00
Item Details and Description
Fabric History/Pedigree: 
1980's fabric, deadstock (like new, never used from another era) for use in making a nicer woman's daily-wear silk kimono; 100% Japanese silk; Received
 as
 roll; unusual more modernistic look.

Fabric Type: Light-medium weight silk originally for use in making a woman's kimono; fabric is textured due to the weave, and has the feel close to raw silk; Full designs are same on both sides; minimalist use of stylized fruit shapes in groups of two or three; Fabric has interwoven lateral (horizontal) stripes of off-white to gray that are irregularly spaced so doesn't have a typical pinstripe feel to it; the larger fruits are about 5 inches (32.7 cm) at longest; The rendering of the colors of the fruit look much like water-color paintings; Motif colors for the fruit and leaves are as follow: dark to lighter greens, reds, blues, and mustard tones; very distinctive.


Colors: Please use our text color descriptions to complement your sense of the fabric due to differences in contrast and color on different devices.


Condition: Excellent


NOTE: Multiple lengths ordered will be sent in one uncut piece.

---
More from this collection
6601: 1980's Deadstock Japanese Silk Kimono Fabric, yard