6682: 1980's Deadstock Japanese Sarasa Komon Silk Kimono Fabric, yard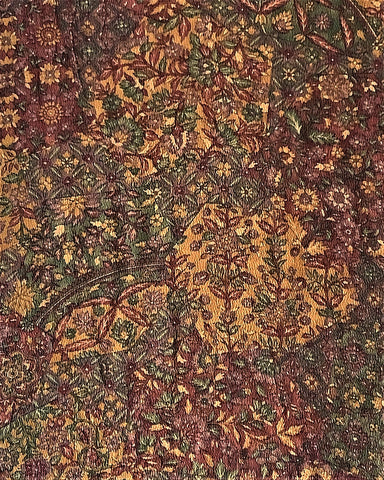 Catalog #6682
Vintage Japanese Textiles:
 1980's Japanese Silk
Sarasa Komon Type
Ladies Silk Kimono Fabric by yard
Width:14.5 inches / 36.83 cm
Length: 1 yard  / 91.44 cmUS$15.00 per yard
Item Details and Description
Fabric History/Pedigree: 
1980's fabric, deadstock (like new, never used from another era) for use in making a nicer woman's daily-wear silk kimono; 100% Japanese silk,
sarasa komon
type fabric; Received
 as
 partial roll.

Fabric Type: Lightweight silk originally for use in making a woman's kimono; fabric is slightly translucent and also lightly textured due to the weave, but is not a chirimen (crepe); this is a sarasa komon fabric, meaning it has multiple small-scale designs (usually intricate, like this one) interconnected and filling the fabric; probably a katazome (stencil) type process; designs are on one side only; a close examination of the motifs reveals that the complex patterns of leaves, flowers, etc are themselves couched in irregular geometric shapes; Motif colors are mostly moss-green and a sort of mustard-brown, and other shades of brown; Komon kimonos are a nice grade of casual every-day wear kimono.


Colors: Please use our text color descriptions to complement your sense of the fabric due to differences in contrast and color on different devices.


Condition: Excellent


NOTE: Multiple lengths ordered will be sent in one uncut piece.

---
More from this collection
6682: 1980's Deadstock Japanese Sarasa Komon Silk Kimono Fabric, yard