7469: 1930s-40s Japanese Vintage Kimono Silk Fabric,AraiHari,53in.Pc.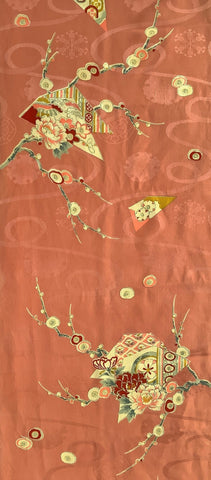 Vintage Japanese Textiles:
1930s-1940s Kimono  Silk Fabric Piece 
Ikebana Themes, Branches, Blossoms

Arai-Hari

Width: 13.5 inches / 34.29 cm
Length: 53 inches / 134.62 cm
Catalog# 7469:
 US$18.00
Plus Shipping
Fabric History/Provenance: 
Pieces received from a traditional Japanese kimono cleaner/reconstructor called 
Arai-Hari
 -- see an excellent explanation of traditional 
Arai Hari
 by textile expert 
John Marshall,by click-pushing HERE
.
Fabric Description:
This is thin light
weight silk, translucent, derived from 
a woman's kimono; Background color is solid dark-peach, and fabric is interwoven with curlicue and streaming bands(ribbon-like) cascading the whole length, as well as various round traditional figures, including wheels, snowflakes; Mofif of the foreground is of ikebana themes of plum blossom flowers on branches, ikebana peonies and other blossoms, along with stylized decorated fans;  designs in light tan and off-white with other colors on the fans, flowers, and branches being: salmon, gray, dark gray, dark-red, mustard-yellow and dark colonial-blue;
Print is on one side but mostly visible on reverse; light sheen on all the interwoven elements; slight drape; textured feel, close to feel of raw silk.


Recommended for making scarf/accessories

Colors:
Please use our text descriptions to complement your sense of the colors, as color and contrast differ on different devices.
---
More from this collection
7469: 1930s-40s Japanese Vintage Kimono Silk Fabric,AraiHari,53in.Pc.