7382: 1960s Japanese Asa(HempFlax) Fabric, Piece 57"(AraiHari)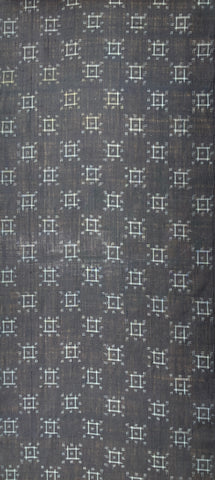 Vintage Japanese Textiles:
1960s Asa (HempFlax) Fabric 
(Arai-Hari)

Width: 14.75 inches / 37.47 cm
Length: 57"/ 144.78 cm

Catalog# 7382:
US$18.00 per piece
Plus Shipping
Fabric History/Pedigree:
Pieces received from traditional Japanese kimono cleaner /reconstructor called 
Arai-Hari
 -- see an excellent explanation of traditional 
Arai Hari
 by textile expert 
John Marshall, by click-pushing HERE
.
Fabric Description:
Very
 thin, lightweight, translucent mesh-like charcoal-black fabric is called Asa, a flax or hemp-based traditional fabric made in Japan for centuries up until the 1950s; Asa is usually harder than silk or cotton and has utilitarian purposes such as coverings, screen mesh, work clothing.
Asa is stronger and lasts longer than cotton; This particular piece is thinner and has designs; the fabric is lighter than many we see from the same period, and was taken from a garment;   Design is of 1.25 in./31.75mm squares composed of .25 inch/6.35 square elements aligned to create the squares and connecting elements that render it as a diagonal reticular motif; please see close-ups; Design colors are light-gray.

Recommended for making scarf or accessories, and for Japanese antique textile aficionados.


Condition:
Excellent.
---
More from this collection
7382: 1960s Japanese Asa(HempFlax) Fabric, Piece 57"(AraiHari)