7303:1980s Deadstock Japanese Silk Fabric, 61in.Mock-Shibori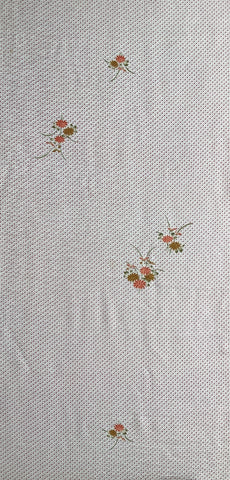 Vintage Japanese Textiles:

1980s Deadstock Silk Nagajuban Fabric Piece
Mock-Shibori Design w/Interwoven Waves

Width: 14.25 inches / 36.2 cm
Length: 61 inches / 154.94 cm

Catalog# 7303:

US$18.00 per piece


Fabric History/Pedigree: 1980s under-kimono (nagajuban) silk fabric pieces from a partial roll of deadstock fabric (Deadstock means never used from another time).


Fabric Type:
Li
ghtweight, minimally translucent 
silk, an
 off-white colored fabric is printed motif mimicking shibori-dots; also, full fabric is interwoven with small waves, only visible from certain angles (Please see our last close-up image of waves); Strong sheen but not satin-like; there are randomly placed small chrysanthemums, the largest being 3 inches/7.62cm at tallest; flower colors are brown, rusty-red, moss-green, and light yellow; Please see close-ups for the designs; the fabric has slight drape and is soft to the touch.
Recommended for making scarf/accessories.


Colors: Please consider our text descriptions to complement your sense of the fabric, as colors and contrast differ on different devices.
---
More from this collection
7303:1980s Deadstock Japanese Silk Fabric, 61in.Mock-Shibori