7220:1960s Japanese Kimono Silk Fabric, Piece 57in. Komon, AraiHari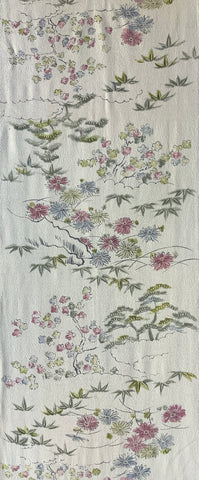 Vintage Japanese Textiles:
1960's Komon Kimono Silk Fabric Piece  
(Arai-Hari)
Width: 13.5 inches / 34.29 cm
Length:  57 inches / 144.78 cm

Catalog# 7220: 
US$18.00 per piece
Item Details and Description:
Fabric History/Pedigree:   Pieces received from a traditional Japanese kimono cleaner/reconstructor called Arai-Hari -- see an excellent explanation of traditional Arai Hari by textile expert John Marshall,by click-pushing HERE.


Fabric Description: This is a 1960s silk piece; lightweight, slightly textured (not quite chirimen) fabric with light brown(tan) background and printed patterns of small flowers, bamboo leaves, trees, clouds, plum blossoms on branches, and thin arc lines that usually evoke the theme of fields of wild grass;  fabric is print, so designs on one side;  design colors used: lighter to some darker tones of moss-green, mauve, grays, pale blues; , The small size of the flowers ( all under 1 inch (2.54cm) lends this a komon (small motifs) sense.

Recommended for making scarf or accessory.


About Colors:  Please consider our text color descriptions to complement your sense of the fabric, as colors and contrast differ on different devices.
---
More from this collection
7220:1960s Japanese Kimono Silk Fabric, Piece 57in. Komon, AraiHari