7146:1960s Japanese Kimono Silk Fabric, Arai-Hari, 59in. Piece, Pinstripes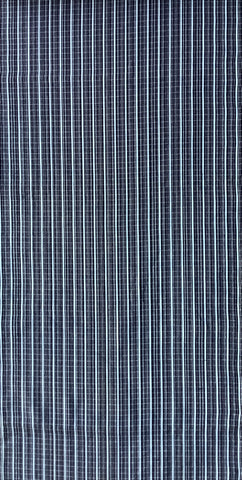 Vintage Japanese Textiles:

1960's Kimono Silk
 

Fabric Piece

Width: 14.25 inches / 36.2 cm
Length: 59 inches / 149.86 cm

Catalog# 7146:
List Price: US$18.00 per piece


Sale Price: US$9.00 per piece


Plus Shipping


Fabric History/Pedigree:
P
ieces received from traditional Japanese kimono cleaner/reconstructor called Arai-Hari -- see an excellent explanation of traditional Arai Hari
 by textile expert
John Marshall, by click-pushing HERE
.
Fabric Description:
 Light
weight
1960s silk kimono fabric;
 background color is black with bands and pinstripes running lengthwise(vertically in our pics), and with plaid lateral thin pinstripes in parallel throughout length(please see closeups); Stripes are white; no sheen, slightly stiff; same on both sides.


Colors:
  Reminder that colors differ on different monitors and devices; please use our text color descriptions in your consideration.
Condition:
Excellent.

---
More from this collection
7146:1960s Japanese Kimono Silk Fabric, Arai-Hari, 59in. Piece, Pinstripes