7100: 1960s Japanese Silk Kimono Fabric, 57in.(Arai Hari) Komon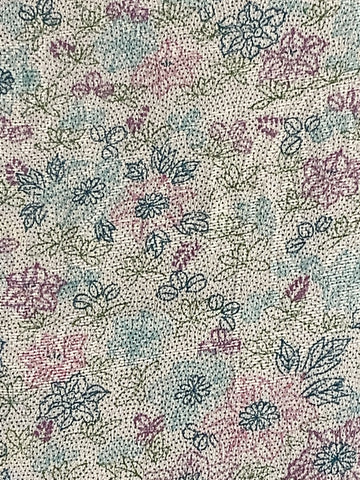 Vintage Japanese Textiles:
1960s Arai-Hari Used
 Silk Kimono Fabric Piece

Komon, Small-Scale Motifs: Flowers, butterflies, etc.)

Width: 13.5 inches / 34.29 cm
Length: 59 inches / 149.86 cm

Catalog# 7100:

US$18.00 per piece


Fabric History/Pedigree:
1960s kimono silk fabric pieces received from traditional Japanese kimono cleaner/reconstructor called Arai-Hari -- see an excellent explanation of traditional Arai Hari by textile expert John Marshall,by click-pushing HERE.


Fabric Type:
Delicate, l
ightweight, translucent
silk
; textured but not quite chirimen (crepe); designs on one side only, but partially seen on reverse;  the background is a  soft-white color but fabric is filled with traditional designs of small-scale flowers, cherry blossoms, and leaves;  and pine branches throughout (smallest 3/8 inch / 9.53 mm, largest are 1 inch / 2.54 cm tall );  colors of designs are muted tones of all of these: pink, lavender, and green -- the latter shades into and mixed with  different shades of blue; There is, however, very thin interwoven silver threads in large designs(only visible on back), so the fabric does have a sheen and glitter, depending on angle of view; Also, the entire fabric is filled with swirls of very tiny pixels that fill the fabric; gradations between the colors is also very subtle and includes arcs and waves; Soft and some drape;

This is a complex piece and rather modern in our eyes (Please see close-ups).
Colors: Please consider our text descriptions to complement your sense of the fabric, as colors and contrast differ on different devices.
Condition:
Excellent for age; a few pinholes from Arai-Hari process.
---
More from this collection
7100: 1960s Japanese Silk Kimono Fabric, 57in.(Arai Hari) Komon