7147:1960s Japanese Deadstock Silk Kimono Fabric,Cherry Blossoms,51in.Piece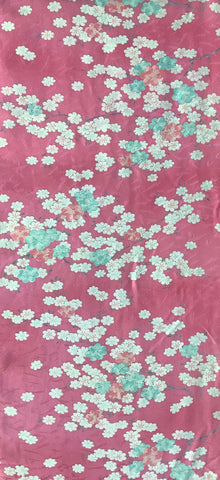 Vintage Japanese Textiles:

1960s Deadstock Silk Kimono Fabric Piece
Cherry Blossoms
Width: 14 inches / 35.56 cm
Length: 51 inches / 129.51 cm

Catalog# 7147:
US$18.00 per piece
Fabric History/Pedigree:
1960s Deadstock Japanese kimono silk.


Fabric Description:
Deadstock (new, never used but from another era) lightweight silk piece from the 1960s;
print on one side, somewhat visible on reverse; 
Background is a darker shade of pink, with unknown small-strokes interwoven throughout, randomly placed to resemble choppy seas or perhaps something else(we're not sure - it's an uncommon motif); these strokes are all of a brighter sheen than rest of the fabric (Please view our last image of these strokes in closeup); Foreground designs are of cherry blossoms, mostly white, some pink, and some accented in pale blue to aqua-blue, or pale peach-pink inside of white blossoms; fabric has overall sheen; minimal drape.

 Might be used to make scarfs or accessories. 

---
More from this collection
7147:1960s Japanese Deadstock Silk Kimono Fabric,Cherry Blossoms,51in.Piece