7366: 1980s Japanese Deadstock Cotton Yukata fabric 55in.Pc,Iris,Stream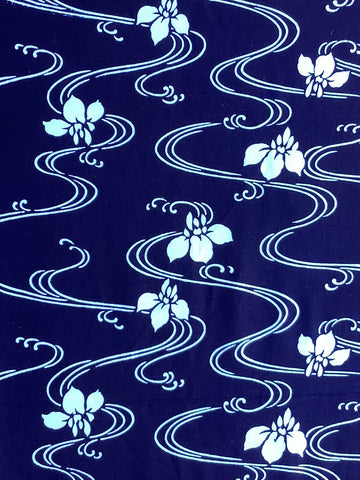 Catalog# 7366
Vintage Japanese Deadstock:
1980s Japanese Cotton Kimono (Yukata) Fabric
Navy-Blue & White Iris Flowers Over Streams Design

Width: 14.5 inches / 36.83 cm
Length: 55 inches / 139.8 cm

Price: US$15.00


Plus Shipping


Item Details and Description:
Fabric History/Pedigree:   Lightweight, deadstock cotton (new but unsold stock) estimated from the 1980s.


Fabric Description:

  Lightweight navy-blue cotton yukata (summer kimono) fabric with white patterns same on both sides; Design is classic of curving streams as background and Iris blossoms as foreground; the 

fabric is very slightly stiff, but softens with wash (Hand-wash separately, luke-warm water-- see our FAQ Pages for cleaning tips).


Colors: Please remember that colors and contrast shown may differ on different devices. Please note the colors listed in the text here.


Condition:  Excellent. 

---
More from this collection
7366: 1980s Japanese Deadstock Cotton Yukata fabric 55in.Pc,Iris,Stream