7339: 1960's Japanese Silk Nagajuban Fabric Deadstock, Japanese Maple Leaves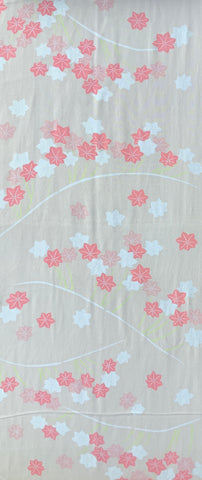 Catalog# 7339
1960s Japanese Textiles
 

Deadstock:
Nagajuban
 

Type Silk Fabric

Width:13.75 inches / 34.92 cm
Length: 61 inches

 

/ 154.94 cm

US$18.00 per piece
Plus Shipping
Item Details and Description
Fabric History/Pedigree:
1960s silk fabric pieces received from a traditional Japanese kimono cleaner / reconstructor called Arai-Hari -- see an excellent explanation of traditional Arai Hari by textile expert John Marshall,by click-pushing HERE.
Fabric Description Details:
This type of silk is for making nagajuban (under-kimono) for women, it is very pale pink and translucent with a nice drape and slight sheen; interwoven are very hard-to-see small classic geometrics; also there are small stems in light lime-green run vertically at random places from the leaves in the fabric;  in addition for the background, there are some very subtle lateral curving lines across(weft) a few times; the foreground motif is majority of pink and ruddy-pink Japanese maple leaves placed randomly, with other leaves being white and scarcely visible in lower lighting; The design intended for one side only, though, due to thinness of the fabric, designs are mostly visible on the reverse. 
Great for making scarf and accessories.
Condition: EXCELLENT
Colors:  Please use our text descriptions to complement your sense of the fabric, as colors and contrast vary per device.
---
More from this collection
7339: 1960's Japanese Silk Nagajuban Fabric Deadstock, Japanese Maple Leaves