7300: 1980's Japanese Deadstock Silk Kimono Fabric, 52in. Piece, Tan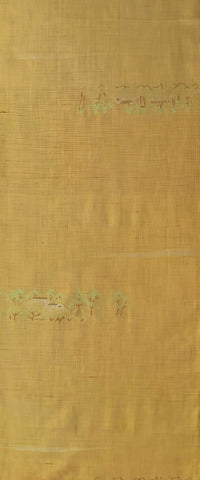 Catalog# 7300
1980's Japanese Silk Piece 
Deadstock Silk Kimono Fabric

Width:14.5 inches / 36.83 cm
Length: 52 Inches / 132.08 cm
US$15.00 plus shipping

 

Item Details and Description
F
abric History/Pedigree:
 1980's deadstock (unused but old) kimono silk .

Fabric Description: Light-medium weight silk with a background color that is a tan with embued very light green; Warp and weft threads are very tiny and upon very close-up inspection the use of the green threads alternate with brown and tans -- from even a short distance (1 yd/1m)it presents as a solid color; fabric has  slight sheen and is stiff; there are a couple of instances of a classic Japanese art country-home-in-forest scene that are machine-brocaded in laterally(please see close-ups);
Suitable for making scarves or accessories.


Colors: Note that colors and contrast show differently on different devices, please refer to our text description.


Condition: Excellent.

---
More from this collection
7300: 1980's Japanese Deadstock Silk Kimono Fabric, 52in. Piece, Tan