7242: 1960s Japanese Girls Kimono Silk Fabric Piece 69in. (AraiHari)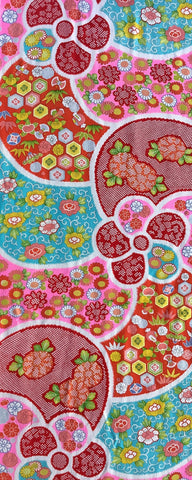 Vintage Japanese Textiles:
1960s  Silk Kimono Fabric Piece Arai-Hari
From Colorful Older Girl's Kimono
Pinwheel Motif, Some komon (small figures) Designs

Width: 14.75 inches / 37.47 cm

Length: 69 inches /  165.56 cm

Catalog# 7242:
US$20.00 per piece
Fabric History/Pedigree:
Pieces received from traditional Japanese kimono cleaner/reconstructor called 
Arai-Hari
 -- see an excellent explanation of traditional 
Arai Hari
 by textile expert 
John Marshall,by click-pushing HERE
.
Fabric Description:
Light
weight silk originally intended to make an older girl or young woman's kimono; This is a 1960s fabric piece that is white background but is mostly filled with designs; motifs are of a very large pinwheel configuration with each part of the pinwheel filled with a wide variety of classic traditional designs, to include: many types of flowers, bamboo leaves, family crests(mon)  kozuchi (treasure mallets), rolls/scrolls, child's toys, curlicue lines, and tinyTemari ball shapes; Predominant colors are deep red and orange, with light aqua-blues, pink, and shuiro (vermillion); other colors: light orange, gradation greens-to-yellow; Many of the figures are small, 1 inch (2.54cm) or less; also note the dotted fields resembling shibori (tie-dyed) -- but are not, as this is a print fabric with designs
on one side, but detectable on reverse.
Note on colors: As all devices have differing colorations, please use our text descriptions of colors to complement your sense of the contrast and color of the images of the fabric.


Recommended for making scarfs, accessories, and for dollmakers.


---
More from this collection
7242: 1960s Japanese Girls Kimono Silk Fabric Piece 69in. (AraiHari)