7003:1990s Japanese Vintage Kimono Silk Fabric, Deadstock, 54in.Pc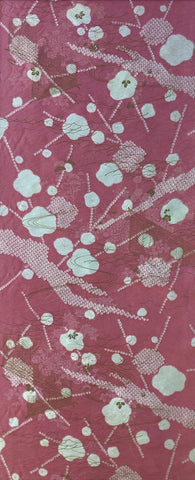 Vintage Japanese Textiles:
1990's Kimono  Silk Fabric Piece
Deadstock
Tall Grass, Winterberries, Maple Leaves, Floral,Fence

Width: 14.25 inches / 36.2 cm
Length: 54 inches / 137.16 cm

Catalog# 7003:
US$18.00 per piece
Fabric History/Provenance:
Pieces Derived from deadstock 1990's kimono silk roll.
Fabric Description:
This is light
weight silk
 for use in making a woman's formal kimono; Background color is peachy-pink color with interwoven fields of soft arcs in waves, representing fields of tall grass; Also,mock-shibori dot lines and figures; The whites globs are probably flowers, and there are a few woven bamboo screens/fences in soft olive-green; there are a few small olive green plum blossoms and pine branches; because of the interwoven arc lines, the fabric is lightly textured to the touch; Slight sheen; Print, one side only; minimal drape.
Colors:
Please use our text descriptions to complement your sense of the colors, as color and contrast differ on different devices.

Condition: Excellent. Suitable for Framing.

---
More from this collection
7003:1990s Japanese Vintage Kimono Silk Fabric, Deadstock, 54in.Pc