6870: 1930s-50s Japanese Silk Kimono Fabric,Floral, 54in.(Arai Hari)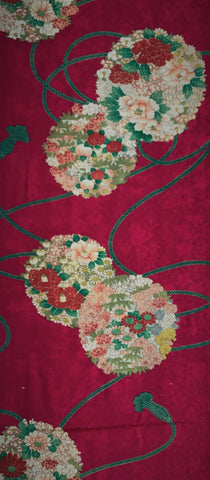 Vintage Japanese Textiles:
1930s to 1950s Arai Hari Used
Silk Fabric Piece

Width: 14 inches / 35.56 cm
Length: 54 inches / 137.14 cm

Catalog# 6870:
US$20.00 per piece
Fabric History/Pedigree:
1930s-50s silk fabric pieces received from traditional Japanese kimono cleaner / reconstructor called Arai-Hari -- see an excellent explanation of traditional Arai Hari by textile expert John Marshall,by click-pushing HERE.


Fabric Type:
Lightweight fine 
silk, dark Fuschia color, very slightly translucent; minimal
 sheen; print on one side but visible on the reverse; Motif is of  circular flower bouquets in pairs and singles with decorative cords in the background; fabric background is also in an interwoven grid pattern of hexagonal shapes with classic cherry blossom mon (crest) design; these elements are 1.5 inches/38.1 mm at longest dimension; Design c
olors used: burgundy-red, various shades of light pink, gradation hues of light peach as well as dark emerald green and a few instances of mustard yellow;
NOTE: The last picture is over-exposed to better reveal the mon crests in background.


Colors:
 Please use our text color descriptions to complement your sense of the fabric due to differences in contrast and color on different devices.
Condition:
Excellent.

Recommended for use in making scarf or other accessory.
---
More from this collection
6870: 1930s-50s Japanese Silk Kimono Fabric,Floral, 54in.(Arai Hari)