7340:1930s-50s Japanese Kimono Silk Fabric,AraiHari,58" Piece,Peonies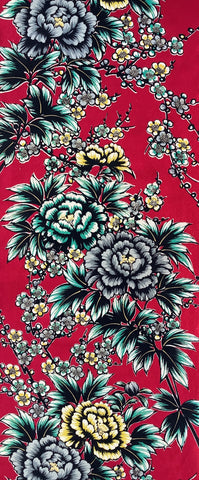 Vintage Japanese Textiles:
1930s-1950s Kimono  Silk Fabric Piece Arai-Hari
Large-Scaled Peonies w/Plum Blossoms
Chirimen
Width: 14 inches / 35.56 cm
Length: 58 inches / 147.32 cm
Catalog# 7340:
US$25.00 per piece
Plus Shipping
Fabric History/Provenance: Pieces received from a traditional Japanese kimono cleaner/reconstructor called Arai-Hari -- see an excellent explanation of traditional Arai Hari by textile expert John Marshall,by click-pushing HERE.

Fabric Description: This is lightweight silk, slightly translucent, with a deep red(cherry red) background fabric from a woman's kimono; while this is chirimen silk, the texture is slight; Design is of stylized, bold, large-scaled peonies(5+ inches/12.7+cm) on branches with leaves, & with plum blossoms on branches; Design colors are on the darker side with predominantly blacks & grays, plus some aqua-blues and whites, as well as light yellow blossoms; Distinctive look with stronger contrast and thicker figure lines than most older fabrics we see of this period.

Recommended for making scarf/accessories.

Colors:
Please use our text descriptions to complement your sense of the colors, as color and contrast differ on different devices.
---
More from this collection
7340:1930s-50s Japanese Kimono Silk Fabric,AraiHari,58" Piece,Peonies