7302:1980sJapanese Silk Kimono Fabric, 61in.(Arai Hari)Mock-Shibori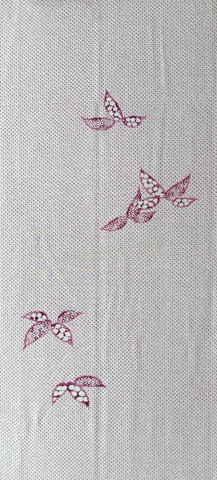 Vintage Japanese Textiles:

1980s Arai-Hari Used Silk Kimono Fabric Piece
Mock-Shibori Design w/Mock-Batik Look Leaves

Width: 14.5 inches / 36.83 cm
Length: 61 inches / 154.94 cm

Catalog# 7302:

US$18.00 per piece


Fabric History/Pedigree:
1980s kimono silk fabric pieces received from a traditional Japanese kimono cleaner/reconstructor called Arai-Hari -- see an excellent explanation of traditional Arai Hari by textile expert John Marshall, by click-pushing HERE.


Fabric Type:
Li
ghtweight, minimally translucent 
silk, an
 off-white colored fabric is printed motif mimicking shibori-dots, also, there are randomly placed leaves, the largest being 6.5 inches/16.51cm at longest; design colors are shades of burgundy-red; Please see close-ups for the designs; the fabric has minimal drape and is very slightly stiff, no sheen.
Recommended for making scarf/accessories.


Colors: Please consider our text descriptions to complement your sense of the fabric, as colors and contrast differ on different devices.
---
More from this collection
7302:1980sJapanese Silk Kimono Fabric, 61in.(Arai Hari)Mock-Shibori