7195:1980s Japanese Deadstock Vintage Nagajuban Silk Fabric,55in. Piece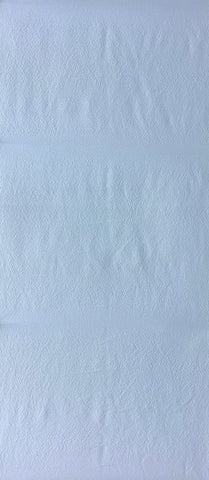 Vintage Japanese Textiles:
1980's Kimono  Silk Fabric Piece
Deadstock Nagajuban Silk
(For Textile Artists, Dyeing Projects)

Width: 14.25 inches / 36.2 cm
Length: 55 inches / 139.8 cm

Catalog# 7195:
List Price: US$18.00 per piece




Sale Price: US(.00


Plus Shipping


Fabric History/Provenance: Pieces derived from deadstock 1980's under-kimono (nagajuban) silk roll.

Fabric Description:
This is lightweight 
silk
 originally for use in making a woman's  under-kimono (nagajuban); the fabric is a soft-white with some sheen; the fabric has a solid grainy look and feel;  (Please view closeups); slight drape; 
About Pictures:
Please NOTE

 that colors and contrast differ on each device so please use our text descriptions to complement your sense of the fabric

.



Recommended for making scarves/accessories, or dyeing projects.



Condition:
Excellent.

---
More from this collection
7195:1980s Japanese Deadstock Vintage Nagajuban Silk Fabric,55in. Piece