7073: 1960s Japanese Kimono Silk Fabric, Arai-Hari, 63in.Piece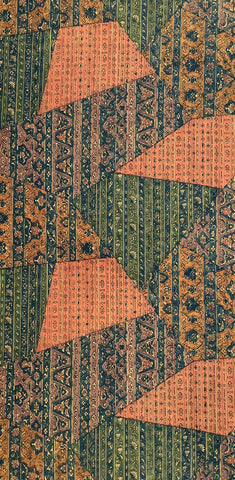 Vintage Japanese Textiles:

1960's Kimono Silk
 

Fabric Piece
(Abstract-Modern Influenced)

Width: 13.75 inches / 34.92 cm
Length: 63 inches / 160.02 cm

Catalog# 7073:
List Price: US$18.00 per piece

Sale Price: US$9.00 per piece
Plus Shipping



Fabric History/Pedigree: Pieces received from traditional Japanese kimono cleaner/reconstructor called Arai-Hari -- see an excellent explanation of traditional Arai Hari by textile expert John Marshall, by click-pushing HERE.

Fabric Description:
 Light
weight
1960s silk fabric, print on one side, minimally translucent;
 background  colors a mix of dark-green, and several browns; designs are  a patchwork of many different oddly shaped (oblique, no right angles) figures/fields; but also patterned with bands & pinstripes running in parallel, yet broken, paths lengthwise; within all the bands are small flowers, vines, and different abstract geometric shapes; (please see close-ups); 


Recommended for making scarf or accessory.
Colors:
  Reminder that colors differ on different monitors and devices; please use our text color descriptions in your consideration.
Condition:
Excellent.

---
More from this collection
7073: 1960s Japanese Kimono Silk Fabric, Arai-Hari, 63in.Piece