6938:1980's Deadstock Japanese Silk Summer Kimono Fabric, by Yard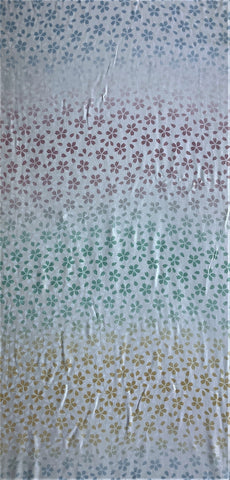 Catalog #6938

Vintage Japanese Textiles:
 1980's Japanese Silk
Ladies Silk Summer Kimono Fabric by Yard
Komon (small-scale) Cherry Blossoms Motif
 Width:14.5 inches / 36.83 cm
Length: 1 yard  / 91.44 cm
US$15.00 per yard
Item Details and Description
Fabric History/Pedigree:
Better quality
1980s fabric, deadstock (like new, never used from another era) for use in making silk kimono; 100% Japanese silk; Received
 as a full roll
;
Fabric Type/Description: Bright, Light-medium weight silk originally for use in making woman's spring or summer silk kimono; the background is white but there are lateral bands of different colors running lengthwise (see our first picture); the subtle gradation colorings alternate from white to very-pale-pastel lavender, pale pastel light-aqua-blue, and then to light-mustard; note also silver-white petals abound; The interwoven motifs are of small-scale (komon) cherry blossoms throughout; The petals have more sheen than rest of the fabric,so it presents more brightly than our images show; the fabric is slightly smooth to the touch with a nice drape.

Recommended for making scarves or accessories.


Colors: Please use our text color descriptions to complement your sense of the fabric due to variations in contrast and color on different devices.


Condition: Excellent


NOTE: Multiple lengths ordered will be sent in one uncut piece.

---
More from this collection
6938:1980's Deadstock Japanese Silk Summer Kimono Fabric, by Yard