6879: 1930s-50s Japanese Cotton Kimono Fabric, 40in.Piece(Arai-Hari)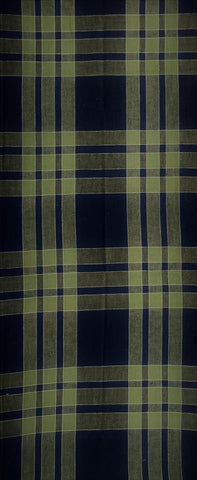 Vintage Japanese Textiles:
1930s-1950s Japanese Kimono(Yukata) Fabric
(Arai-Hari)
Width: 13.75 inches / 34.29 cm
Length: 40 inches/ 101.6 cm

Catalog# 6879:
US$15.00 per piece

Fabric History/Pedigree: 


 Pieces received from traditional Japanese kimono cleaner/reconstructor called Arai-Hari -- see an excellent explanation of traditional Arai Hari by textile expert John Marshall, by click-pushing HERE.

Fabric Type:
 Yukata, summer-wear cotton, lightweight, very slightly firm fabric with the background in dark indigo-blue dyed (almost black), with parallel bands in groups of three running perpendicularly; the color of the bands is very light moss-green with slightly brighter edges and slightly lighter moss-green in the squares created by intersections of overlapping bands; Same on both sides (see closeups).
Note on image colors: 
Please use our text descriptions of color to complement your sense of the fabric as devices show colors and contrast differently.

Condition:
Excellent (Still slightly stiff, softens with washing -- requires special washing instructions, please let us know if you need them when ordering)

  



---
More from this collection
6879: 1930s-50s Japanese Cotton Kimono Fabric, 40in.Piece(Arai-Hari)