6730: 1930s Japanese Kimono Silk Fabric Piece 53in.(AraiHari)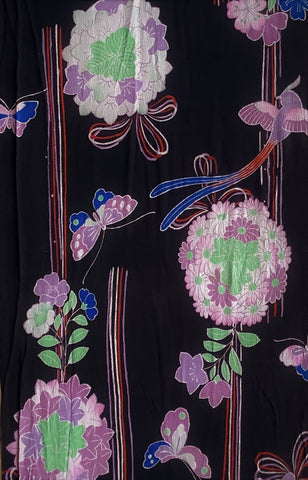 Vintage Japanese Textiles:
1930s Light Silk Fabric Piece
Arai-Hari
(Birds, Butterflies, Flowers, Ribbons)

Width: 11.25 inches / 28.57 cm
Length: 53 inches / 134.62 cm

Catalog# 6730:
US$20.00 per piece
Fabric History/Pedigree:
Pieces received from traditional Japanese kimono cleaner/reconstructor called 
Arai-Hari
 -- see an excellent explanation of traditional 
Arai Hari
 by textile expert 
John Marshall,by click-pushing HERE
.
Fabric Description:
Thin & l
ight
weight silk originally intended to make a woman's kimono; This is a 1930s (or earlier) fabric piece which is slightly translucent and at an unusual width (11.25 inches / 28.57 cm); The weave of the fabric renders it an elastic quality, so it stretches out an inch or two when pulled;  Background is solid black with designs running down the full length, to include: birds (stylized phoenix or pheasant?), butterflies, flowers in ball-clusters and decorative multi-color ribbons streaming down throughout; colors of the designs: several shades lavender, some mauve, greens, pinks, and red (see close-ups); Designs on one side only, but designs are mostly visible slightly on the reverse due to thinness of the fabric.


Note on colors: As all devices have differing coloration, please use our text descriptions of colors to complement your sense of the color of the fabric.


Recommended for making scarf or accessories


---
More from this collection
6730: 1930s Japanese Kimono Silk Fabric Piece 53in.(AraiHari)