110-GNAG:10Lbs Vintage Japanese Girls Silk Under-Kimono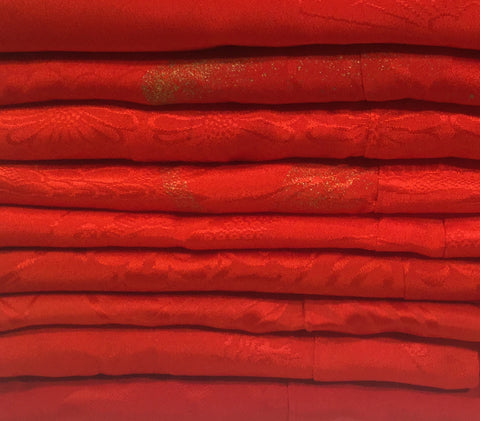 By-Pound Girls Under-Kimono Package
(Nagajuban 10 Pounds)
Some Kinsha Silks

Catalog#: 110-GNAG
List Price: US$7.50/lb, $75.00 


Sale Price: US$65.00

 

/ 10LBS
Plus Actual Shipping Cost
Pictures are of  sample 10 Lbs Girls Nagajuban Packages

(Each Package is Unique)
These packages are comprised of girls-only sized under-kimonos which are called nagajuban. They are mostly made of silk with most of the silks being of the finer kinsha type; They come either in solid red or vermillion (known as shuiro, a color traditionally believed to ward off evil spirits); Most of these are still wearable and all have some sort of traditional interwoven motifs such as cranes, clouds, geometrics, flowers, etc. If we have it, we may add one hadajuban (half-length type nagajuban).
These are whole garments and most can be worn informally but are also used by designers and textile artists in various ways. While sold as fabric cutters, many of our customers wear these, and some of our commercial buyers resell them as retail vintage kimonos. Please note that these are vintage so they may have some stains, holes, imperfections, and wrinkles -- but none are what you would call as 'rag' level vintage.
Cultural Note About Girls Nagajubans:


These garments are made for wear as an undergarment for the ceremonial kimonos worn by children at ages 7-5-3, a holiday called Shichi-Go-San(7-5-3 years old). These are made so that they are taken in for the three-year-old and five-year-old, and let out each age. So this means that many have the length of the seven-year-old, just taken in. Since the holiday is once a year, families traditionally take them up or let them down for the age of the child. Not all are of this type, but these are most common. The largest ones, when let out, might fit USA girls Junior sizes. Keep in mind that these are for Japanese children of decades ago, so are smaller in stature.
This is a BY-WEIGHT (POUND) product, not based on piece count, so there is an average of  8 to ten (10) garments per 10 Lbs package.
REMEMBER: We urge customers that before deciding on your first order of any of our bulk vintage kimono packages to please be sure to carefully read all the information pages, FAQs(tab at top of each page) and testimonials . This saves you -- and us-- inconvenience and disappointment if you order without a full understanding of these products.
---
More from this collection
110-GNAG:10Lbs Vintage Japanese Girls Silk Under-Kimono