7130: 1980's Japanese Tsumugi Silk fabric 61" Piece (Arai-Hari)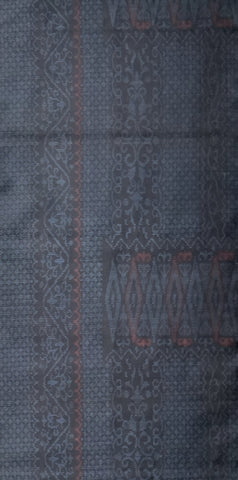 Catalog#: 7130
1980s Japanese Tsumugi Silk (Pongee)Fabric
from Arai-Hari
(Japanese Kimono Cleaner)

Width:14.5 inches / 36.83 cm
Length: 61 Inches / 154.94 cm

 List Price: US$18.00 per piece plus shipping
Sale Price: US$9.00 per piece plus shipping
Item Details and Description
Fabric History/Pedigree: 1980's tsumugi (pongee) silk pieces received from traditional Japanese kimono cleaner/reconstructor called Arai-Hari -- see an excellent explanation of traditional Arai Hari by textile expert John Marshall, by click-pushing HERE. 
Fabric Description:  This distinctive Japanese vintage traditional Tsumugi is a lightweight pongee type silk that is slightly translucent; the entire fabric is filled with a somewhat modern (Western) groupings of various shapes, lines, and designs on a black background, with patterns in dark blues with burgundy reds (please view closeups); no sheen, smooth to touch, little drape.
Pattern Details: Viewed lengthwise (top to bottom in our pics)  you can make out six evenly sized bands that run lengthwise, with other partial lateral bands on the middle-left half comprised of geometric shapes; all the designs are subtle.

Colors: Reminder that colors and contrast differ on each device so please use our text color descriptions to complement your sense of the look of this piece.

Condition: Excellent.
---
More from this collection
7130: 1980's Japanese Tsumugi Silk fabric 61" Piece (Arai-Hari)