7410-1:1930s-50s Japanese Vintage Kimono Silk Fabric,AraiHari,56in.Piece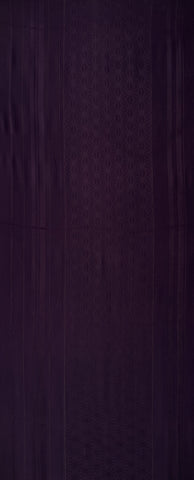 Vintage Japanese Textiles:
1930s-1950s Kimono  Silk Fabric Piece Arai-Hari
Stripes/PinStripes, Single Metallic Gold Pinstripes
Width: 13.75 inches / 34.92 cm
Length: 56 inches / 142.24 cm
Catalog# 7410-1:
US$17.00 per piece
Fabric History/Provenance: 
Pieces received from a traditional Japanese kimono cleaner/reconstructor called 
Arai-Hari
 -- see an excellent explanation of traditional 
Arai Hari
 by textile expert 
John Marshall,by click-pushing HERE
.
Fabric Description:
This is light
weight softer silk, only slightly translucent, dark plum color background with various sized bands, stripes, and pinstripes running lengthwise; 5 metallic gold single pinstripes run vertically, 2 of them border the center 5.5 inches / 13.97cm column that runs vertically and is composed of classic traditional 'asa-no-ha' (Hemp Leaves)Motif; 
fabric probably from a higher-grade under-kimono (nagajuban); See the noticeable sheen in the center asa-no-ha column, as well as some other small width bands/stripes; slight sheen can be seen in the striped areas; looks the same on both sides; this is softer silk and has fair drape.

Note on our Final Image Above: 

Last image close-up is intentionally over-exposed (brighter) to better reveal the asa-no-ha patterns and pinstripes; as a result, that image is not true to the actual dark plum color.
Recommended for making scarf/accessories.
Colors:
Please use our text descriptions to complement your sense of the colors, as color and contrast differ on different devices.
---
More from this collection
7410-1:1930s-50s Japanese Vintage Kimono Silk Fabric,AraiHari,56in.Piece