7377: Vintage Japanese Painted Noren by Artist: Shousan, Aomori Nebuta Matsuri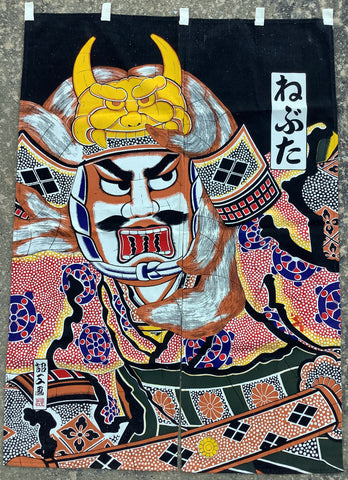 Catalog# 7377
Painted Vintage Noren(Hanging Door or Room Divider)
By Artist: Shousan
From Aomori Nebuta Matsuri (Festival)
Large Samurai Face in Battle Headgear (Kabuto) 
Medium-Thickness Canvas Cotton

Width: 33 inches / 83.82cm
Height: 46 inches / 118.64 cm
US$65.00 
Plus Shipping

Description:
This is a painted noren (room/doorway divider) made of light-medium weight cotton canvas, painted on one side with the Artist's mark on the bottom left, Shousan; The upper right corner writing says "Nebuta", which refers to the famous Aomori Prefecture Nebuta Matsuri (To learn more about this festival, please click HERE); 

Bold colors and lines show a fierce face and upper torso of a samurai warrior in full battle gear wearing a kabuto, the traditional head gear Samurai wore into battle. The face and kabuto almost fill the frame of the noren, making it rather bold and striking to the eye; suitable for display; hangs straight due to weight and type fabric. We are unsure of its age, but we guess it is probably from between the 1970s to 1990s.

Background Cultural Information:
This noren is a type of hanging fabric curtain used in Japanese homes and shops as a door or room divider (
See about noren in Wikipedia
); This one is much heavier than most other cotton cloth noren(s), the fabric is a thicker, light grade canvas weight fabric and weighs 1 pound (net weight); This may have been made from a Festival float banner used in the
Nebuta festival
with edges hemmed and loops added at the top; use small bamboo or curtain rods to hang.
Condition: 
Colors are still bright, and aside from a few tiny specks (white paint) in the upper black background, it is clean and in excellent condition; specks are only visible up close. A rare find,
suitable for display;
Of interest to Japanophile Collectors
---
More from this collection
7377: Vintage Japanese Painted Noren by Artist: Shousan, Aomori Nebuta Matsuri