7299: 1930s-1950s Japan Kimono Silk Fabric 49in. Furisode Nagajuban Type(AraiHari)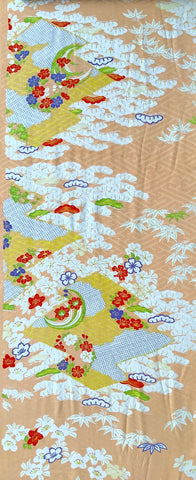 Vintage Japanese Textiles:

1930s-1950s  Silk Ceremonial Kimono Nagajuban Fabric Piece
(Arai-Hari)
Ornate Traditional Floral Classic w/Diagonal Japanese Maze Patterns
From Women's Formal Kimono (Furisode) type Nagajuban(under-kimono)
Width: 14 inches / 35.56 cm
Length: 49 inches / 124.46 cm

Catalog# 7299:
US$18.00 per piece
Plus Shipping
Fabric History/Pedigree:
Pieces received from a traditional Japanese kimono cleaner/reconstructor called 
Arai-Hari
 -- see an excellent explanation of traditional 
Arai Hari
 by textile expert 
John Marshall,by click-pushing HERE
.
Fabric Description:
Light
weight silk from a woman's ceremonial kimono undergarment(nagajuban); This is a 1930s-50s quality silk fabric piece which is interwoven with background of diagonal maze; background color is mostly a light peach with hint of tan; lesser areas of the mazes are in a soft gold-yellow; note the interwoven background throughout is of a classic Japanese geometric maze design that includes an ancient symbol for Shinto shrines; Motifs designs include: several flower types, bamboo leaves, stylized pine tree branches (some in reds and olive-green); many of the flowers are soft-white; the mesh or tiny screen-like shapes we think represent water; delicate with fair drape.
Other Design Colors: dark blue, purple, olive-green, gray, pure-white, gold
Note on colors: As all devices have differing coloration, please use our text descriptions of colors to complement your sense of the color of the fabric.


Recommended for display or making scarf or accessories


Condition: Excellent. 

---
More from this collection
7299: 1930s-1950s Japan Kimono Silk Fabric 49in. Furisode Nagajuban Type(AraiHari)