7295:1960s Japanese Silk Kimono Fabric, 55in.(Arai Hari) Hand-Painted Flowers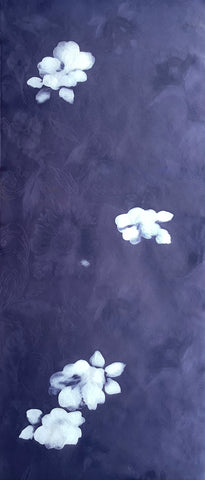 Vintage Japanese Textiles:
1960s Arai-Hari Used
 Silk Kimono Fabric Piece

Interwoven Vines & Flowers, Hand-Painted Blossoms

Width: 14 inches / 35.56 cm
Length: 55 inches / 139.8 cm

Catalog# 7295:

US$15.00 per piece


Fabric History/Pedigree:
1960s kimono silk fabric pieces received from a traditional Japanese kimono cleaner/reconstructor called Arai-Hari -- see an excellent explanation of traditional Arai Hari by textile expert John Marshall,by click-pushing HERE.


Fabric Type:
Li
ghtweight, slightly translucent black 
silk
;  the background is interwoven with  curlicue vines and flowers (possibly Peonies) throughout, though it is barely visible; There are a few soft whitish-peach blossoms that appear to have been hand-painted; More than likely, this fabric is from a formal kimono of the  kurotomesode type; Very good quality silk, soft and some drape.
Suitable for making scarf/accessories.


Colors: Please consider our text descriptions to complement your sense of the fabric, as colors and contrast differ on different devices.
Condition:
Excellent for age.
---
More from this collection
7295:1960s Japanese Silk Kimono Fabric, 55in.(Arai Hari) Hand-Painted Flowers