7256: 1980's Japanese Silk 61"Piece,Ladies Chirimen Silk Kimono Fabric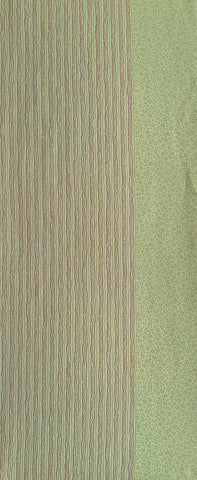 Catalog# 7256
1980's Japanese Silk Piece 
Deadstock Silk Kimono Chirimen Fabric(Crepe)

Width:14.5 inches / 36.83 cm
Length: 61 Inches / 154.94 cm
List Price: US$20.00




Sale Price: US$10.00


plus shipping 

Item Details and Description
F
abric History/Pedigree:
 1980's chirimen (crepe) deadstock (unused but old) silk .

Fabric Description: Chirimen (crepe, textured) light-medium weight silk with a background color that is pale cream-green; lines and blossoms are a dull kighter hue of burgundy color; the motif is 2/3s vertical parallel wiggly stripes, and the remaining third is of tiny cherry blossom petals; designs on one side only, the reverse is solid;  There is a slight sheen; The fabric has a nice drape; suitable for making scarves or accessories.


Colors: Note that colors and contrast show differently on different devices, please refer to our text description.


Condition: Excellent.

---
More from this collection
7256: 1980's Japanese Silk 61"Piece,Ladies Chirimen Silk Kimono Fabric