7214: 1980s Japanese Silk Piece, Deadstock, kimono fabric, 55 in.Piece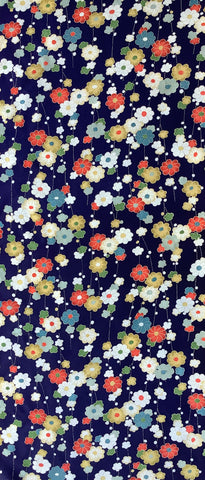 1980s Japanese Silk Piece 
Deadstock Kimono Fabric by Piece

Flowers on cascading thin line branches
Komon, Small-Scale Motifs
Catalog# 7214
Width:14 inches / 35.56 cm
Length: 55 inches / 139.8 cm

US$18.00 / piece
Item Details and Description
Fabric History/Pedigree: 1980's fabric derived from deadstock roll of kimono silk; (Deadstock means old inventory which is like new but has been in storage, never been used).
Fabric Description: Lightweight (not translucent) Japanese vintage silk kimono fabric was originally intended to make woman's kimono; the background color is navy-blue with designs in soft tones of iron-red, mustard, tan, greens, lite pale blues, colonial blue, tan & light peach colors;  flowers are mostly chrysanthemums, but a few resemble cherry and plum blossoms - all sort of stylized; interesting rendering of the branches - looking like willow tree thin branches, but bearing different flowers; we consider this a komon type design using small figures that are 1 inch (2.54cm) diameter or smaller; print on one side, no-sheen; minimal drape. 
Suggested for making scarf or accessories.
Note: Colors vary with different devices so please complement our text descriptions when considering colors.
Condition: Excellent.

---
More from this collection
7214: 1980s Japanese Silk Piece, Deadstock, kimono fabric, 55 in.Piece