7210:1980's Japanese Pongee Silk Tsumugi, 64 inches Arai-Hari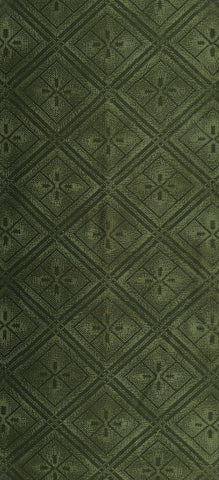 Rare Japanese Textiles:
1980's   Tsumugi (Pongee) Silk Fabric
Width:14.25 inches / 36.2 cm
Length: 64 inches / 162.56 cm
Catalog# 7210
US$20.00 per piece
Item Details and Description
Fabric Description Details:
The design is the same on both sides, dark moss-green background with designs in several hues from pale-light-green to light green; Patterns are 6 inches (15.24) quadrangular diamond shapes with concentric diamond shape, and four-part diamonds with 4 marks in their centers; Array is in diagonal fashion; please see close-ups; Fabric is stiff with a slight sheen; not translucent.
Colors: Please use our text descriptions to complement your sense of the colors, as color and contrast differ on different devices.
Condition: EXCELLENT,
Popular with our antique Japanese textile aficionados and collectors.
---
More from this collection
7210:1980's Japanese Pongee Silk Tsumugi, 64 inches Arai-Hari