7209:1980's Japanese Pongee Silk Tsumugi, 62 inches Arai-Hari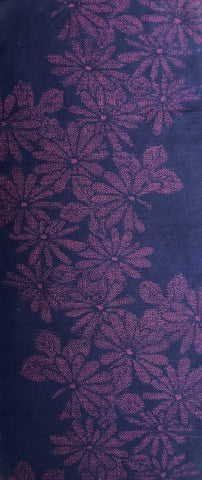 Rare Japanese Textiles:
1980's   Tsumugi (Pongee) Silk Fabric
Width: 14.375 inches / 36.51 cm
Length: 62 inches / 157.48 cm
Catalog# 7209
US$20.00 per piece
Item Details and Description
Fabric Description Details:
The design is the same on both sides, black background with designs in iron-red color; Patterns are of large (average size 6 inches (15.24cm) diameter daisy mum (chrysanthemum) flowers done via the interweave process, so note the tiny skipped pinstripes patterns close-up; please see close-ups; Fabric is softer than most tsumugi silks we see from this period, with no sheen; minimally translucent, little drape.
Note on images: The last closeup above is intentionally over-exposed (brighter) to better reveal the stitching. The other 2 pics are closer to the actual color viewed in normal room light.
Colors: Please use our text descriptions to complement your sense of the colors, as color and contrast differ on different devices.
Condition: EXCELLENT,
Popular with our antique Japanese textile aficionados and collectors.
---
More from this collection
7209:1980's Japanese Pongee Silk Tsumugi, 62 inches Arai-Hari