7208: 1980's Japanese Tsumugi Silk fabric 60" Piece (Arai-Hari)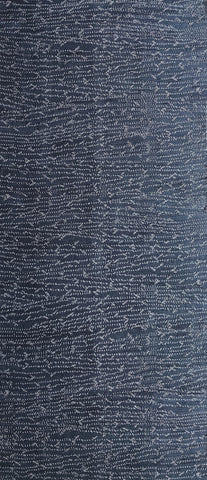 Catalog#: 7208
1980s Japanese Tsumugi Silk (Pongee)Fabric
Abstract/Modern
from Arai-Hari (Japanese Kimono Cleaner)

Width:14.25 inches / 36.83 cm
Length: 60 Inches / 152.4 cm

US$18.00 / piece 
Item Details and Description
Fabric History/Pedigree: 1980's tsumugi (pongee) silk pieces received from a traditional Japanese kimono cleaner/reconstructor called Arai-Hari -- see an excellent explanation of traditional Arai Hari by textile expert John Marshall, by click-pushing HERE. 
Fabric Description:  This distinctive Japanese vintage traditional Tsumugi is a lightweight pongee type silk, navy-blue  and muted blue-gray (warp-weft) tiny mesh background appearance (only visible up close; the design in soft-whites has a slightly modernistic (Western), sort of abstract patterns of lateral lines (weft) comprised of tiny dashes (see close-ups); to us, the pattern looks like either willow branches or vines - except they run left to right;  slightly stiff, no sheen, same on both sides; interesting.
Colors: Reminder that colors and contrast differ on each device so please use our text color descriptions to complement your sense of the look of this piece.

Condition: Excellent.
---
More from this collection
7208: 1980's Japanese Tsumugi Silk fabric 60" Piece (Arai-Hari)