7196:1980s Deadstock Vintage Japanese Tsumugi Kimono Silk, 55 inches Piece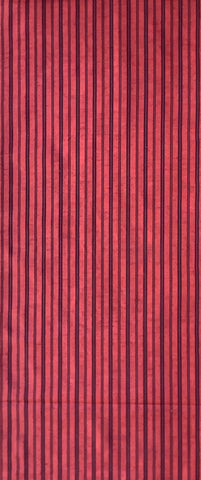 Catalog#: 7196
1980s  Deadstock Japanese Textiles:
  Tsumugi Silk Kimono Fabric
Stripes
Width:14.5 inches / 36.83 cm
Length: 55 inches / 139.8 cm

US$20.00 per piece


Item Details and Description
Pedigree:  This is a 1980s deadstock (new but unsold stock) tsumugi (pongee) silk found on a roll;  Originally intended for making an everyday wear kimono. 

Description:  This medium-light-weight fabric is iron-red with black pinstripes and stripes in evenly spaced array running lengthwise(warp); Basic stripes/pinstripes designs on both sides; fabric is still stiff with minimal drape; good for quilting.


About Pictures:  Please NOTE that colors and contrast differ on each device so please use our text descriptions to complement your sense of the fabric.

Condition: EXCELLENT

---
More from this collection
7196:1980s Deadstock Vintage Japanese Tsumugi Kimono Silk, 55 inches Piece