7174:1990's Japanese Mock-Silk Piece, Deadstock, Kimono Fabric, 44 inches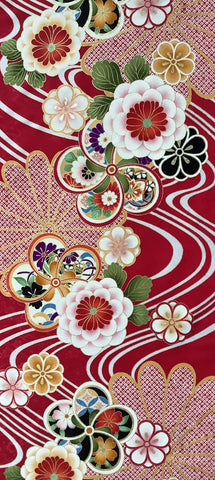 1990's Japanese Mock-Silk Kimono Fabric Piece,
Deadstock Kimono Fabric
Ornate Floral, Metallic Golden Edgings

Catalog# 7174
Width: 15.75 inches / 40.1 cm
Length: 44 inches/  111,76 cm
US$15.00 per piece
Item Details and Description
Fabric History/Pedigree: 1990's, pieces derived from deadstock factory cuts of kimono mock-silk (synthetic) fabric; (Deadstock means old inventory which is like new but has been in storage, never been used).
Fabric Description: Japanese vintage light-medium weight mock-silk kimono fabric originally intended to make a woman's formal kimono; the background color is a dark cherry-red, but also throughout the entire fabric there are subtle flowers (mostly chrysanthemums) patterns; these background designs have a slight sheen to them, depending on the angle of lighting/viewing;  Secondarily, in the background, there is a  sweeping white streams motif; Foreground designs are of larger scale flowers, mostly chrysanthemums as well as smaller 5-circles as a blossom of a flower, a Japanese pinwheel look; Note the dotted fields (mock-shibori) in larger flower figures;All the designs have burnished gold gilded edges around the petals of blossoms and elsewhere (Please view close-ups);

Since this is from the 1990s, we are not sure, but this shiny gold may be some type of print process not seen in the older kimono fabrics that we specialize in; Colors used: rusty-orange, dark purple, reds, yellows, black, shades of blue, white, mustard and gold;  Bright and striking presentation.
Colors: Please use our text color descriptions to complement your sense of the fabric due to differences in contrast and color on different devices.
Condition: Excellent.
---
More from this collection
7174:1990's Japanese Mock-Silk Piece, Deadstock, Kimono Fabric, 44 inches