7121: 1950s Deadstock Japanese Meisen Silk Fabric, Stripes,Bands, 56in.Pc.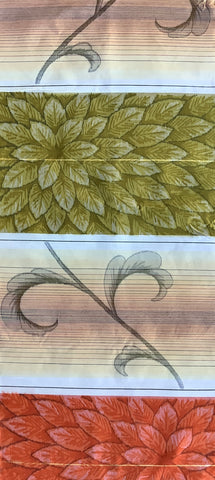 Vintage Japanese Textiles:
1950s Meisen Silk Fabric Piece

Pinstripes, Leaves-Vines, Golden Metallic Stripes

Width: 14 inches / 35.56 cm
Length: 56 inches / 142.24 cm

Catalog# 7121:
Initial List Price: US$15.00 per piece
Sale Price: US$5.00
Fabric History/Pedigree:
1950s meisen silk, found in a deadstock roll (Deadstock is like new, unused stock but from another period).


Fabric Description:
 medium-weight meisen silk is 1950's piece; Meisen is defined literally as 'common silk stuff'; and has grown in popularity in the last few years; Meisen from that period usually has larger, fuzzy, and bolder patterns and many bright colors, this one is a variation that uses parallel stripes and pinstripes running laterally, in large horizontal bands that are 9 to 10 inches (22.86cm to 25.4cm)deep
 (Please see close-ups.

Fabric Motif:
Distinctive 
Japanese traditional design of lateral (weft) stripes and different colored bands alternate running lengthwise; unlike most Meisen, the edges of figures and lines are not as fuzzy and more clearly defined than most meisen; The large curling vines patterns of this fabric are overlain by pinstripes whose spacing goes from very close at the center, to wider apart at edges of each 10-inch deep space; There are also single brocaded metallic golden lines 3/6th inch (4.76mm) thick that run across the fields which have leaves (either olive greens or rusty-orange in color);  motifs
 same on both sides; Colors are dominant fall foliage colors(oranges, rust, mustard, tans, and light to dark-olive greens); also in the fields of the curly vines, colors shift in gradation fashion (Please see last close-ups above).
Colors:
Reminder that colors differ on different devices, so please refer to our text color descriptions.
Condition:
Excellent.

More info on these 1950s meisen silks is here.
---
More from this collection
7121: 1950s Deadstock Japanese Meisen Silk Fabric, Stripes,Bands, 56in.Pc.