7104:1930s-50s Japanese Silk Kimono Fabric, Camellia Flowers,49in.Pieces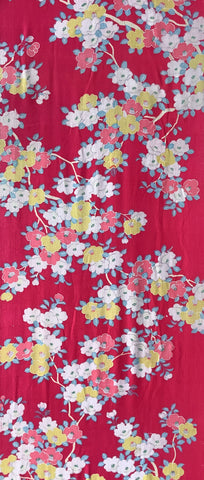 Vintage Japanese Textiles:
1930s-1950s Arai Hari Used Silk Kimono Piece

Camellia Bush Flowers & Branches

Width: 13.5 inches / 34.29 cm
Length: 49 inches / 124.46 cm

Catalog# 7104:
List Price: US$15.00 per piece
Sale Price: US$7.50 per piece
Plus Shipping
Fabric History/Pedigree:
1930s-50s silk fabric pieces received from traditional Japanese kimono cleaner/reconstructor called Arai-Hari -- see an excellent explanation of traditional Arai Hari by textile expert John Marshall, by click-pushing HERE.


Fabric Description: This delicate 1930s-1950s silk is a lightweight, translucent kimono fabric with a background color of ruby-red; fabric is lightly textured, sort of a chirimen-like feel and look (wrinkles); Motif is branches and flowers of the Camellia Japonica, a tea plant grown in the mountains of Japan; Colors of the flowers are light/pale pink, pale gray-blue, soft yellow, white, and creamy-rouge; the leaves of the Camellia bush are a light colonial blue.
Motifs are on one side only, but visible on reverse; slight drape, good for making scarf or accessories.
Colors: Please use our text color descriptions to complement your sense of the fabric due to differences in contrast and color on different devices.

Condition:
Excellent for age, with a few small pinholes from the Arai-Hari process.

---
More from this collection
7104:1930s-50s Japanese Silk Kimono Fabric, Camellia Flowers,49in.Pieces