7082: 1930s-1950s Japanese Silk Deadstock Kimono Fabric, 55in.Piece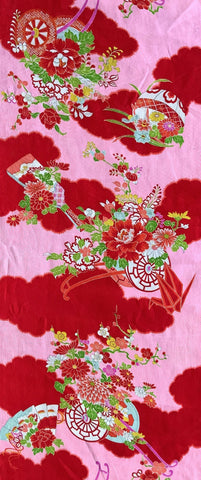 1930s-1950s Japanese Silk  
Deadstock Vintage Kimono Silk Fabric Piece
(Royal Carriage Flower Carts, Hagoita Paddles, Temari, Heavy Florals) 

Catalog# 7082

Width: 14 inches / 35.56 cm
Length: 55 inches / 139.8 m
US$20.00 / piece
Item Details and Description
Fabric History/Pedigree: 1930s-50s fabric derived from a deadstock roll of kimono silk; (Deadstock means old inventory which is like new but has been in storage, never been used).
Fabric Description:  Lightweight red and pink silk fabric is slightly translucent,has print on one side; background has interwoven traditional waves, shibori dot fieldss, flowers and decorative cords, though interwoven is very subtle (hard to see); Fabric motif is ornate classic designs of Royal Flower Carts, decorated fans, Temari balls with cords/tassels, and Hagoita Paddles (bad mitten wooden paddles); note that the red and pink areas are cloud-like; Many kinds of flowers used, including peonies, chrysanthemums and others; also; Designs on the fans and Temari balls are floral; Wide range of colors used in the motifs, from dark red to light purple, to green and several pastels (Please view closeups); slight drape.
Colors: Please use our text color descriptions to complement your sense of the fabric due to differences in contrast and color on different devices.
Condition: Excellent for its age.
NOTE: Recommended for making scarves or accessories.
---
More from this collection
7082: 1930s-1950s Japanese Silk Deadstock Kimono Fabric, 55in.Piece