7033: 1990s Japanese Deadstock Vintage Kimono Silk Fabric,62in. Piece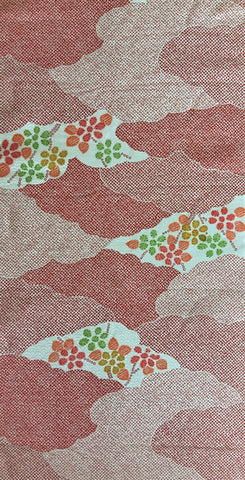 Vintage Japanese Textiles:
1990's Kimono  Silk Fabric Piece
Deadstock 

Width: 15 inches / 38.1 cm
Length: 62 inches / 157.48 cm
Catalog# 7033:
List Price: US$18.00 per piece
Sale Price: US$9.00 per piece
Fabric History/Provenance:
Pieces derived from deadstock 1990's kimono silk roll.
Fabric Description:
This is lightweight printed 
silk
 originally for use in making a kimono; the fabric is an off-white background but filled with tiny mock-shibori fields bordered with cloud shape lines; In a few of the solid spaces there are stylized small-scale flowers and leaves that are moss-green, tan, brown and peach; Designs on one side only; Colors of the cloud shapes vary from dark red to white background and white shibori-style dots patterns (Please see closeups); no sheen and slight drape.

About Pictures:
Please NOTE

 that colors and contrast differ on each device so please use our text descriptions to complement your sense of the fabric

.
Recommended for making scarves/accessories.



Condition:
Excellent.

---
More from this collection
7033: 1990s Japanese Deadstock Vintage Kimono Silk Fabric,62in. Piece