6946: 1960s-70s Deadstock Vintage Japanese Tsumugi (Pongee) Kimono Silk, by Yard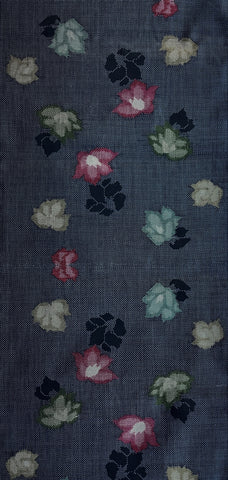 Catalog# 6946
1960s-1970s  Deadstock Japanese Textiles:
  Tsumugi Silk Kimono Fabric by Yard
Width:14.5 inches / 36.83 cm
Length: 1 yard / 91.44 cm
List Price: US$15.00 per yard
Sale Price: US$7.50 per yard
Item Details and Description
This is a 1960s-1970s light-medium weight deadstock (new but unsold stock) tsumugi (pongee silk);   used for making a woman's everyday wear kimono. 


Pedigree: This is what is called deadstock -- new/never used stock, but aged.


Description: The fabric design is the same on both sides, interwoven in pixelated fashion: motif is flowers randomly placed throughout; Fabric is navy-blue background but because the fabric is filled with tiny pixels - both background and foreground motifs - (interwoven), it has a dark blue with a grayish look; the motif is of various blossoms; colors of the flowers are all muted: burgundy-red, black, light brown, olive green, and dark aqua-blue; NOTE: in regular lower room light, from a distance the fabric looks a dark gray with a touch of blue; fabric has minimal sheen; fairly smooth to the touch but is stiffer than most other silks. (Please see close-ups).
Condition: EXCELLENT

Recommended for making scarf/accessories.
When multiple yards are ordered, fabric is sent in one uncut piece.
---
More from this collection
6946: 1960s-70s Deadstock Vintage Japanese Tsumugi (Pongee) Kimono Silk, by Yard