6922: 1960s Japanese Silk Piece, Deadstock Kimono Fabric, by Yard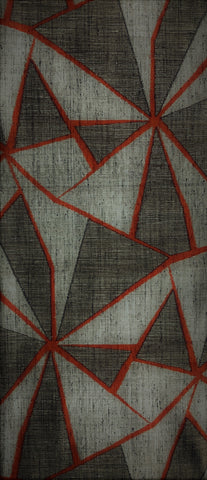 1960s Japanese Silk  
Deadstock Vintage Kimono Fabric
By Yard (Modernistic)
Catalog# 6922
Width: 14.25 inches / 36.2 cm
Length: 1 yard / 91.44 cm

US$15.00 / yard


Item Details and Description
Fabric History/Pedigree: 1960s fabric derived from deadstock roll of kimono silk; (Deadstock means old inventory which is like new but has been in storage, never been used).
Fabric Description:  Light-medium silk fabric, slightly translucent, the background is a gray color with designs in black with iron-red lines; This fabric has the feel of almost raw silk, textured to the touch, no-sheen;  The black areas are rendered with tiny thin lines, and throughout the gray areas you can see tiny flecks of black; same on both sides; designs are rather modernistic, involving obtuse geometric shapes joined to make an oblique grid:
 Cultural/Historical Background Note: In our humble opinion -- This is another example of how Japanese artists and textile designers explored using non-Japanese themes or looks in the early years following World War II, during which they had been oppressed as to freedom of artistic expression. At first glance, this is not seen readily as a Japanese fabric design, or so it seems to us. YL
Colors: Please use our text descriptions of colors to complement your sense of the fabric, in that all devices differ in color and contrast.
Condition: Excellent. 
When purchasing more than 1 yard, fabric is sent in uncut lengths.
---
More from this collection
6922: 1960s Japanese Silk Piece, Deadstock Kimono Fabric, by Yard