6907: 1980s Japanese Silk Piece, Deadstock, kimono fabric, by Yard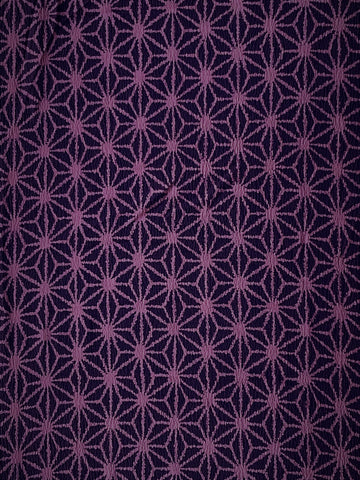 1980s Japanese Silk Piece 
Deadstock Kimono Fabric by Yard
Classic Asa-no-ha (Hemp leaf) Motif
Catalog# 6907
Width:14 inches / 35.56 cm
Length: 1 Yard / 91.44 cm

US$15.00 / yd.
Item Details and Description
Fabric History/Pedigree: 1980's fabric derived from deadstock roll of kimono silk; (Deadstock means old inventory which is like new but has been in storage, never been used).
Fabric Description: Japanese vintage silk kimono fabric originally intended to make women's under-kimono (nagajuban); background-color is dark purple with designs in mauve; the motif is a classic called asa-no-ha (hemp leaf), a centuries-old geometric design popular in the Edo Period and after;  Fabric is print, one side but lightly visible on reverse; no sheen, slightly textured (but not quite chirimen); has some soft-drape. 
Recommended for making scarf or accessories.
Note: Colors vary with different devices so please complement our text descriptions when considering colors.
When purchasing more than one yard, lengths are sent uncut.
Condition: Excellent.
---
More from this collection
6907: 1980s Japanese Silk Piece, Deadstock, kimono fabric, by Yard